This is our final Bloggers for Christmas link up before Christmas!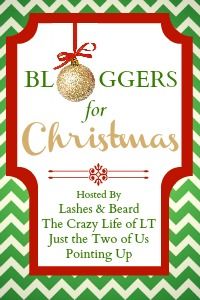 I have loved sharing and reading everyone's posts pertaining to Christmas through this link up. It has also encouraged me to spice some things up as far as decorating goes. I have done 3 projects resulting in some new decorations that I am very proud of. :)
The first one I posted last week, but here is a little reminder:
Then came this "little" project...
It actually took some time, but it was easy & simple to just sit down in front of a good Christmas movie & tie away!
I put one over my bed & one over my closet. All you need is twine rope & some fabric. I used 3 yards of each fabric but still have some left after making both of these. Just cut the fabric in strips and tie, tie, tie. I did 2 strips of one fabric, one strip of burlap, 2 strips of the other fabric, etc.
So easy and so cute!
Then I made this at my last craft night with the girls:
(sorry you are stuck with just an instagram picture d:)
I will say it looks much better in person than it does in this picture. I was so happy with how it turned out though! Honestly, I thought I was going to be disappointed with it. When it comes to painting I usually have this awesome idea & image in my head but the execution of it is always a let down. But I thought this came out pretty close to my mental image. This would be a great little project to tackle with the family over. On my dad's side, the tradition is for all of us to spend Christmas Eve & Christmas morning together, but with cousins getting married and moving away it is getting more & more difficult to keep that tradition exactly, which can be very disappointing. Rather than being sad at all the traditions that are not being kept, we are looking at making some new ones! I think we are going to give making a Christmas craft together a try, and a project like this would be perfect! So here's all ya gotta do:
I chose to do silver stripes and then sprinkled glitter over the paint before it was dry. Of course you could do this however you would like.
I used a hunter green, a light green, and a brown to make the wreath more complex and interesting. Then I painted the red ornaments on the wreath to make it more festive.
3. Write "Merry & Bright."
Again, do it your way ;)
4. Then comes the lights.
For this part make sure the painting is dry! I used a drill bit of some kind (I don't really know the technical name for it lol) and poked holes through the back of the canvas. Because the paint makes the canvas a little soggy it really isn't very difficult to make a hole. Then you just poke the electric Christmas lights through the holes. I taped all the cords down in the back to make sure the lights would stay securely in their place.
Then just flip the switch!
Give these a try, make some new traditions, and have a Merry, Merry Christmas!
Celebrating Christmas on Pointing Up blog. FREE ad space for anyone as my gift to you! Use promo MerryChristmas.
http://dalaynadillon.blogspot.com/p/advertise.html
***While ads are available. You may still use the promo if the ad spaces are full to get queued up for a spot, however the promo will be invalid after December 25th.